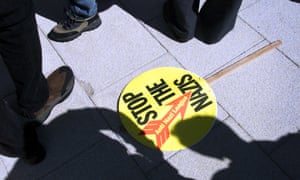 Support from musicians is all very well, but the far right must be fought on the ground in communities too
My mum was an anti-racist activist in the 70s and 80s. She fought the National Front in Newham, Wood Green and New Cross; she helped organise marches after the murder of Altab Ali in Whitechapel; she participated in neighbourhood police-monitoring groups, at a time when the Metropolitan police faced intense criticism from black and Asian community groups for its failure to adequately investigate racist murders, its protection of the NF from counter-protesters, and inflammatory "swamp" style policing. I grew up listening to her stories with the sense of awe you might feel when hearing about the labours of Hercules: these feats are impressive, but ultimately consigned to the past. Skinheads, swastikas, Paki-bashers – such monsters had long been laid to rest. The past felt so distant, it may as well have been myth.
These days I find myself punished for my childhood complacency. Antisemitic incidents are at the highest recorded level since 1984; reports of racially motivated hate crime have increased since the EU referendum; and as public discourse has become poisoned towards refugees and asylum seekers, these vulnerable migrants have become targets for violence and verbal abuse.