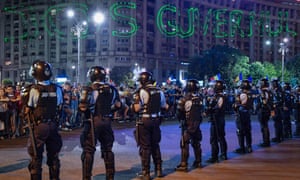 Thousands gather a day after hundreds were hurt in a major anti-corruption rally
Tens of thousands gathered in the Romanian capital Bucharest on Saturday for a second straight day of demonstrations after more than 450 people were hurt and around 30 arrested in a huge anti-corruption protest on Friday.
Police came in for criticism after they used water cannons and teargas to disperse protesters calling on the leftwing government to resign. Many demonstrators needed treatment after inhaling pepper spray and teargas, while others suffered blows, hospital sources said. About 30 police were also injured, 11 of whom were taken to hospital.