Clown Boris should be bonked out of politics before he really hurts someone!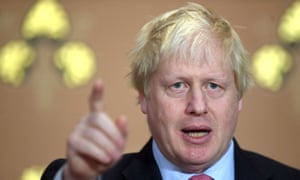 Ambition has shifted Johnson ever further to the right as he seeks to emulate Donald Trump's route to power
For many years it struck me as amusing rather than ominous that the place where I first spent any time with Boris Johnson was a Munich beerhall. We were journalists covering a defence summit in the 1990s. We'd both filed our pieces – he to the Telegraph, me to the Guardian – and we were bored. So, along with the man from the Times, we took a taxi into the city centre and spent the rest of the afternoon drinking beer and chatting. Johnson made a lot of good jokes, and one or two rather loud and tasteless ones about Hitler and Munich beerhalls.
Related: Boris Johnson's contempt for Muslim women is part of a dangerous pattern | Sayeeda Warsi