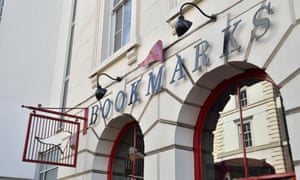 The violent attack on my bookshop Bookmarks at the weekend could never have happened without Trump, and Britain's 'hostile environment'
• David Gilchrist is the manager of Bookmarks in London
Just as we were preparing to close up our shop on Saturday evening, about a dozen men invaded Bookmarks bookshop in central London and started knocking over displays and shouting at staff. One was wearing a Donald Trump mask, others wore baseball caps saying Make Britain Great Again. One wore a union jack as a cape. They zeroed in on books about Islamophobia, and ripped up copies of an anti-racist magazine.
Related: Socialist bookshop inundated with support after rightwingers' attack