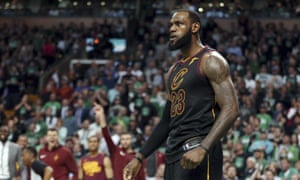 Sporting bodies must stand with activist athletes like the basketball star, fighting for the dignity of fellow humans
In the last week we have witnessed LeBron James, a global sports star, open his new school for underprivileged children in his hometown of Akron, Ohio, and his nation's president publicly attack him in retaliation for remarks James made about Trump. This one case highlights two extremes of leadership; James, who is showing just how to utilise the status and platform of a professional athlete for the benefit of society, and Trump who epitomises petty, divisive and valueless leadership. So let's focus on the positive, and James's project. The basketball player's progressive approach is all too rare in elite sport, but provides for us a vision for how we could develop our athletes in the future, and the hugely positive effect that could have.
This is a crucial time for elite sport where there is something of a global crisis. Corruption and greed eroding trust in Fifa and the International Olympic Committee; horrifying stories of abuse by those in positions of power; endless doping scandals; the apparent blackballing by the NFL of Colin Kaepernick; to name just a few. Those in the upper echelons of sport have lost connection with its true values. The innate value and dignity of striving to be the best version of yourself through sport has been eroded and replaced by a no-compromise approach to winning; where bullying and abuse are considered necessary tools to "harden" athletes; where depression and burn-out are common even among those who "make it"; where athletes must fear for their jobs if they dare to speak out on issues they care deeply about.