Racist ruling in Tory England!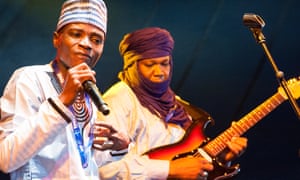 This isn't the first time esteemed overseas artists have been refused entry to the UK for a festival. The Home Office is killing our world music scene – and it's going to get worse
The UK has long been a leading destination for discovering sounds from far-flung corners of the globe, whether it is Malian songbird Oumou Sangaré's set at Glastonbury, or the shadowy South African electro of DJ Lag in a sticky-floored club in London. But last weekend, that reputation was thrown into disarray following comments by Womad organiser Chris Smith, who lambasted the UK's oppressive visa restrictions on world music artists. Three of the acts scheduled for the festival – Sabry Mosbah from Tunisia, Wazimbo from Mozambique and some of the members of Niger's Tal National – were denied entry to the UK and either had to cancel their festival appearance or perform stripped-down sets. Indian duo Hashmat Sultana passed through border control 24 hours after they were due to go on stage. Smith said that an increasing number of performers were now declining invitations to the event because they deemed the Home Office's iron-fisted process humiliating.
Questions have been raised about what this means for the future of world music in the UK. The festival's co-founder, Peter Gabriel, this week released a statement calling the situation "alarming" and asked: "Do we really want a white-breaded, Brexited flatland? A country that is losing the will to welcome the world?" Channel 4 News's Jon Snow, meanwhile, tweeted: "The 'hostile environment' took its toll at Womad … a number of events were seriously affected by visa refusals. By definition, a festival of world music requires visas for many bands. What on Earth is the Home Office doing refusing them? Is music the new enemy?"