Faux-Hindu Fascists begin process of "othering" Muslim citizens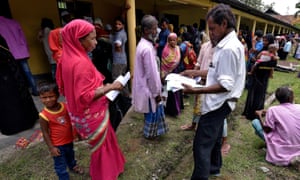 Plan to identify 'foreigners' living in state of Assam creates panic among those who could be left without citizenship rights
About 4 million people who live in the Indian border state of Assam have been excluded from a draft list of citizens, as Bengali-speaking Muslims fear they will be sent to detention centres or deported.
The state government has put stringent security in place while the chief minister, Sarbananda Sonowal, has told Indian media that those finding themselves stateless overnight should not worry.
Sonowal said they would be given a chance to prove their claim of citizenship, that none of the 4 million would be sent to a detention camp, and that "no one will be treated as a foreigner". Sonowal told the Hindustan Times that "ample opportunity will be given to applicants to prove their eligibility".