Jones is @ss-hole!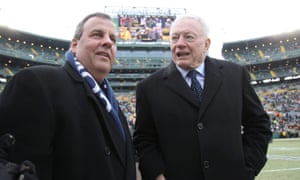 Jones becomes first NFL owner to publicly back anthem policy
Owner is firm but calls Trump's interest in issue 'problematic'
Jones throws support behind Papa John's CEO John Schnatter
Dallas Cowboys owner Jerry Jones doubled down Wednesday on insisting that his players stand for the national anthem, declaring that he wouldn't support anyone who chose to stay in the locker room.
Speaking at his annual news conference to open training camp in California, the outspoken billionaire became the first owner to say publicly that his players would not be allowed to stay off the field during the anthem.