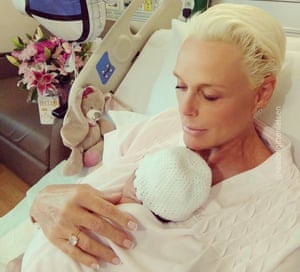 Older fathers don't receive the sort of criticism I've had to endure, she tells magazine
The model and actor Brigitte Nielsen has said she understands why people think she is too old to have a baby at 54, but highlighted that older fathers never receive the same criticism.
Her daughter Frida – her fifth child, and her first with 39-year-old husband Mattia Dessi was born in June. Nielsen, now 55, has also revealed she started having IVF treatment 14 years ago in the hope of becoming pregnant.