Look for Tweets slamming Greece from #TraitorTrump and NRA soon, as they must please their joint master Putin.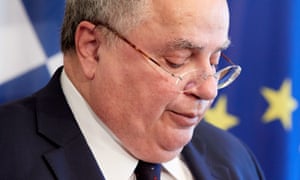 Greek foreign minister Nikos Kotzias is determined to protect a recent accord with Macedonia
Mounting tensions between Athens and Moscow have exacerbated growing friction on Nato's south-eastern flank, with the two traditional allies locked in an increasingly hostile war of words.
As evidence accumulates of the extraordinary lengths the Kremlin is willing to go to in order to thwart Nato's expansion in the Balkans, the Greek foreign minister, Nikos Kotzias, used two interviews at the weekend to publicly rebuke Russia. "Russia must realise that it cannot disrespect the national interests of another state because it feels it is stronger," Kotzias told the Syntakton newspaper.