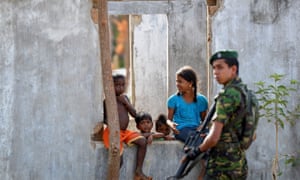 Coalition government has failed on promise to repeal Prevention of Terrorism Act
Sri Lanka's progress towards reform has "virtually ground to a halt" and brutal torture is used with impunity, the UN concludes in a scathing report on the country's human rights record.
The report, which comes three years after the country appeared to have turned a corner in its history by electing a new coalition government, is published on Monday following a UN visit to Sri Lanka at the request of the government. "None of the measures so far adopted to fulfil Sri Lanka's transitional justice commitments are adequate to ensure real progress," it says.