No irony here… look the other way?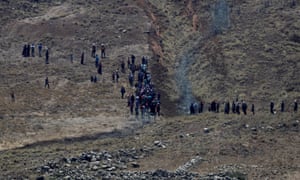 Civilians seek passage to Golan Heights to escape bombing by pro-Assad forces
Dozens of Syrian civilians approached the border fence with Israel on Tuesday, apparently seeking safe passage to the Golan Heights, but were sent back by an Israeli border guard.
Reuters first reported the pleas of civilians stranded near the border, which was later confirmed by Syrian humanitarian workers in the area of Quneitra.