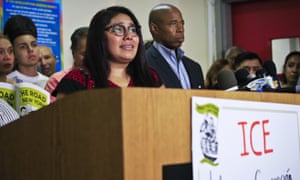 Dropping off the kids at school, delivering a pizza, visiting family – recent arrests have instilled fear for undocumented immigrants going about their daily lives
It was an ordinary Friday on the job for Pablo Villavicencio, a delivery man at the Nonna Delia's pizzeria in Queens, New York.
The father of two pulled up with a bulk lunch order at Fort Hamilton, an army base about a half hour from the restaurant. But unlike previous deliveries , this time Villavicencio, an undocumented immigrant, was arrested by federal immigration authorities and taken to a New Jersey jail.