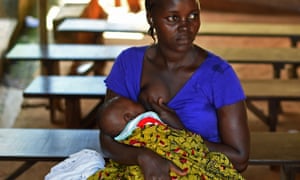 The US's attempt to prevent a WHO resolution to limit the promotion of baby formula shows that neoimperialism is alive and well
There is a wonder food available across the globe that can prevent and fight infection. Requiring no packaging, created on demand and relatively cheap (depending on your work commitments), it is a sustainability dream come true. Let me introduce you to breast milk. Decades of scientific research have again and again cited it as the healthiest option for babies. Meanwhile, countries where some people don't have access to clean water have been encouraged to halt disingenuous advertising from corporate giants of formula milk. Until Donald Trump, that is.
As scores of governments sought to approve a World Health Organization resolution calling on countries to "protect, promote and support breastfeeding" while limiting the promotion of milk substitutes, Trump's administration tried (unsuccessfully) to stop them. Breastfeeding remains political. Not least because companies such as Abbott Laboratories, one of the funders of Trump's inauguration and a feature in the $70bn (£53bn) baby food market, would lose out.