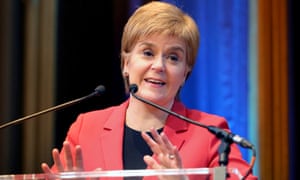 The first minister may appear too patient and careful, but her tactics are worthy of Napoleon
Nicola Sturgeon is gathering her forces once more for another tilt at Scottish independence. Her strategy has been a careful one; too careful for some. Thus when she called for an independence referendum in 2016 she already knew that an embattled Theresa May could not possibly grant it. This was a tactical advance that allowed her to measure the appetite for a second referendum at Holyrood and in Scotland while reminding Westminster that the issue would never go away.
Before the Battle of Austerlitz in 1805 Napoleon restrained his generals when the Russian and Austrian forces attempted to cajole the French army's right flank into a premature skirmish. He knew it was not the right time and place. "The enemy is making a false move, why should we interrupt him," said Napoleon. It seems that Scotland's first minister has been urging her chief strategists in a similar vein.