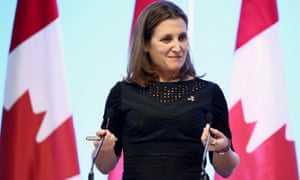 Country announced taxes on items including ketchup, lawnmowers, whiskey and yoghurt amounting to $12.6bn
Canada has announced billions of dollars in retaliatory tariffs against the US in a tit-for-tat response to the Trump administration's duties on Canadian steel and aluminum.
Justin Trudeau's government released the final list of items that will be targeted beginning 1 July. Some items will be subject to taxes of 10 or 25%.