Made in China and Poland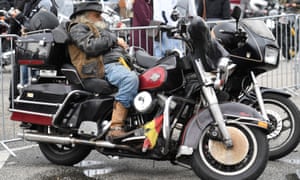 Motorcycle manufacturer warns that EU tariffs will force it to move work overseas, as Donald Trump's trade spat hits US companies
Harley: EU tariffs will put up prices by $2,200
Earlier:
2.13pm BST
Here's some reaction to Harley-Davidson's plans to move some US production overseas, from former White House press spokesman Tony Fratto.…
On this beautiful Monday morning, #TradeWars remain stupid…
Harley-Davidson motorcycles exported to the EU will cost the company about $2,200 more, as it shifts production overseas to offset EU tariffs https://t.co/qFaPSn5bCK via @WSJ
This is how you win a trade war. NOT. Harley-Davidson to Shift Some U.S. Production in Wake of Tariffs – TheStreet https://t.co/KhJtuBOOWV
Trump, last year: "Thank you Harley-Davidson for building things in America."
Tying it to winning WI in 2016: "I want to thank the people of Wisconsin. Great people. Amazing people. And they get it." https://t.co/dlzui62PkQ
1.59pm BST
CNN has a good first take on the Harley-Davidson news:
The company is shifting some production of motorcycles for European customers out of the United States to avoid EU retaliatory tariffs.
Harley-Davidson will move some production out of the US to avoid EU retaliatory tariffs https://t.co/7j8nc9XKOQ pic.twitter.com/Gi941KMopt