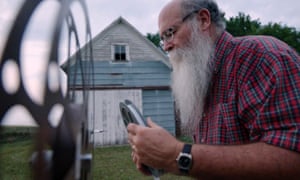 A heartwarming new documentary tells the story of the history teacher who stumbled upon the Brinton Collection, a unique archive of films from the earliest days of moving pictures
Michael Zahs thinks of himself as a saver. "I like to save things," he says, "especially if it looks like they're too far gone." This retired history teacher from Iowa, now in his 70s, has amassed quite a collection over the years: stray animals, farm implements, even a church steeple. He can trace the lineage of the peach trees in his yard back to 1800. Nothing he has saved, however, has been quite as remarkable as the Brinton Collection – a mammoth set of films, lantern slides, posters and projection equipment from the first years of cinema, and even earlier. There are two exciting things about these artefacts. One is that during the more than three decades after Zahs took delivery of the collection and stored it on his property, he has been showing its treasures to local people and keeping the tradition of the travelling showman alive. The second is the discovery that the collection contains very rare material – films by the French cinema pioneer, George Méliès that were once thought to be lost.
Saving Brinton, an absorbing new documentary by Andrew Sherburne and Tommy Haines, tells the story of Zahs and the collection he saved. Between 1895 and 1909,one Frank Brinton crossed the Midwest with his wife Indiana and his travelling show, welcoming locals for a ticket price of just a few cents. At first he showed magic lantern slides, some of which "dissolved" between two static images to create an illusion of movement. When moving pictures arrived, Brinton jumped aboard, ordering many films from distributors in France, one of the most prolific and creative producers in the early period. He also became the manager of the Graham Opera House in Washington, Iowa, which is now known as the State Theater and has been certified by Guinness World Records as the oldest continuously operated cinema in the world. Brinton's programme included trick films such as those by Méliès, which used in-camera special effects to create fantastical spectacles, and many hand-coloured movies where the dye is applied directly to each frame. Projected in the dark, these vivid, bizarre images have lost none of their original impact.