The new fascist alliance!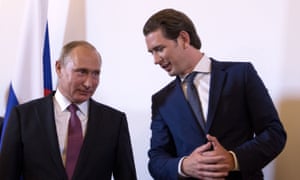 Russian leader evaded MH17 questions during first visit to an EU country since re-election
Vladimir Putin lobbied for the phasing out of economic sanctions and dodged questions about the shooting down of flight MH17 during his first state visit to an EU member state since being re-elected as Russian president in March.
"Both those who initiate these actions and those such measures that we call sanctions are aimed against find them harmful," Putin said in Vienna on Tuesday, claiming that European countries were merely "finding it hard to say so".