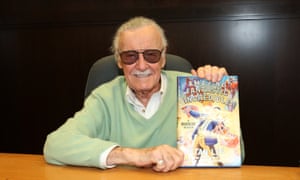 The 95-year-old comic-book creator claims POW! Entertainment executives brokered a 'sham deal' with a Chinese company that stole rights to his name
Famed Marvel superhero creator Stan Lee is seeking more than $1bn (£740m) in damages from his former company POW! Entertainment, alleging that he was tricked into signing a document giving away rights to use his name and likeness.
The comic-book legend, who is 95, is suing POW!, its co-founder Gill Champion and CEO Shane Duffy, alleging they brokered a "sham deal" to sell POW! to a China-based company, Camsing. Duffy is also the vice president of Camsing Entertainment.