Why did May even invite a dictator to Britain?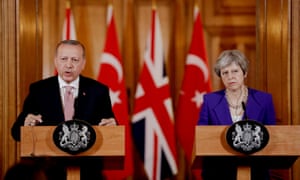 Turkish president ignores call from Theresa May to not lose sight of defending democracy
Turkey's president, Recep Tayyip Erdoğan, has ended his three-day state visit to the UK by insisting that all the journalists locked in Turkish jails were terrorist criminals, ignoring a warning from Theresa May not to lose sight of democratic values as he sought to defend his country from "the extraordinary pressures of a failed coup and Kurdish terrorism".
At a press conference in Downing Street alongside May, Erdoğan made no reference to May's remarks about human rights, but instead urged her to do more to extradite Turkish exiles from the Gulenist or Kurdish movements, saying that if she did not act act against terrorists, it would come back to bite her.