spoken like a true lying fascist!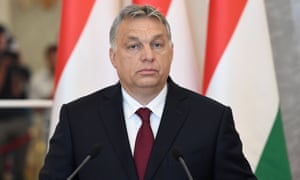 Ahead of re-election as prime minister, rightwinger talks of building a 'Christian democracy'
Viktor Orbán has said the main task of his new government will be to preserve Hungary's security and Christian culture.
The hardline rightwinger was re-elected for a third successive term as prime minister in April after a strong anti-immigration message secured a landslide victory. He was asked to form a government by the president, János Áder, on Monday.