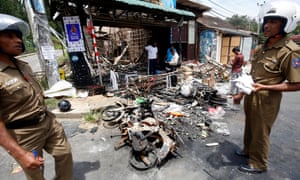 For many Sri Lankans, Facebook is the internet, but while the social media platform has belatedly taken action on hate speech wider society must also take responsibility
"Kill all Muslims, do not spare even an infant, they are dogs," a Facebook status, white Sinhalese text against a fuchsia background, screamed on 7 March 2018. Six days later – after hundreds of Muslim families had watched their homes ransacked and their businesses set on fire – it was allowed to remain online, despite being reported for violating the company's community standards.
Facebook's role in the anti-Muslim violence in Sri Lanka this March cannot be overstated. Posts spreading blatant misinformation about the community, inciting hate and violence, remained online for days after they were reported. This was one reason why the Sri Lankan government banned Facebook in March.