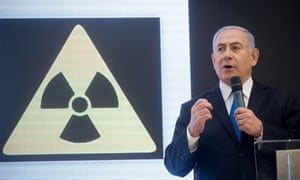 EU governments stand by 2015 deal with Tehran after presentation by Netanyahu
European leaders have pushed back against Israel's claims that it has new evidence showing that Iran is breaching the nuclear deal with the west which was signed in 2015.
The US secretary of state, Mike Pompeo, hailed the Israeli claims as significant, as the 12 May deadline approached for the US president, Donald Trump, to decide whether to pull out of the deal. But Pompeo declined to say whether they represented proof that Iran was violating the deal.