He is right to be afraid of a nun – she has more class and honor than he.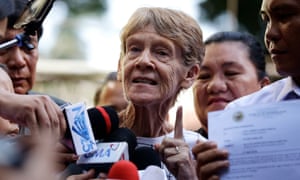 Philippines cancels visa and gives nun 30 days to leave after president Rodrigo Duterte orders investigation
The Philippines has cancelled the visa of Sister Patricia Fox, the Australian missionary who was arrested for allegedly engaging in political activity, and has given her 30 days to leave the country.
The Philippine president, Rodrigo Duterte, had ordered an investigation into 71-year-old as an "undesirable" foreigner.