just another Nazi in the shadows!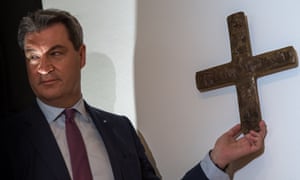 Markus Söder sparks outcry after saying cross is a cultural rather than religious symbol
The premier of Bavaria has sparked uproar after his cabinet ordered that Christian crosses be fixed in the entrance halls of all public buildings.
Markus Söder, whose conservative CSU party faces a far-right challenge in state elections in October, declared that "the cross is a fundamental symbol of our Bavarian identity and way of life".