Source: Southwest passengers tried to save woman as pilot showed 'nerves of steel' | World news | The Guardian
"She has nerves of steel. That lady, I applaud her," said Alfred Tumlinson, a passenger from Corpus Christi, Texas. "I'm going to send her a Christmas card … she was awesome.
Unknown to the passengers at the time, Shults had remained absolutely calm as she attempted to save the jet, as revealed by her communications with air traffic control (ATC), captured in a recording.
"Southwest 1380 has an engine fire. Descending," she tells ATC in a monotone.
"You are descending right now?" an incredulous voice on the other end says.
"Yes, sir. We are single engine. Descending," Shults replies.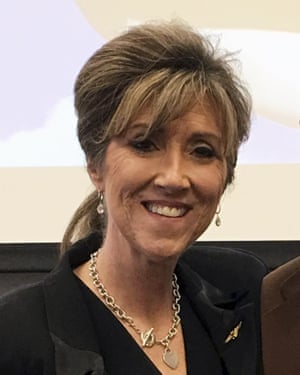 A voice asks her where she would like to land. With just the faintest hint of exasperation, Shults replies: "Give us the closest … we are looking at Philly."
The communications continue calmly, as the captain tells ATC she has injured passengers and relays from her cabin crew: "They said there is a hole and someone went out."
After landing, Shults tells the ATC personnel: "Thanks, guys, for the help."
Diana McBride Self, a passenger, thanked Shults on Facebook for her "guidance and bravery in a traumatic situation".
"This is a true American Hero," McBride wrote. Others on social media agreed and compared Shults with Captain Chesley "Sully" Sullenberger, who guided his US Airways plane to safety in New York's Hudson river in 2009 after birds flew into the engines after take off.
When contacted by the Washington Post, Shults declined to be interviewed.
But family told how she had battled from the late 70s onward, against almost blanket refusal from the military, to become a fighter pilot, eventually succeeding.