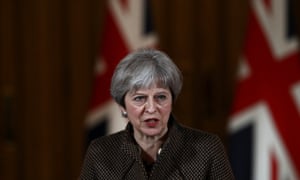 The missile attack on Syria was a pointless, dangerous gesture. If given the chance, MPs must vote to condemn it
Mission accomplished!" The presidential tweet was beyond ominous, reprising as it did George W Bush's ill-fated banner 15 years ago. As his Iraq war dragged on its bloody course, Bush later admitted it had "conveyed the wrong message". Now Trump's crass ignorance of history should serve as a warning he may be destined, or "locked and loaded", to repeat it.
Theresa May has tied this country to his fickle whims. Inside Donald Trump's circus, war breaks out between James "Mad Dog" Mattis, the defence secretary who emerges as the sanest in that shape-shifting entourage, and Trump's terrifying new national security adviser, John Bolton, who reportedly wanted to bomb the hell out of Iranian forces while they were at it on Friday night, urging the president to cancel the Iran nuclear deal. This is where May's hand-holding has left us: hitched to these dangerous men. What a political risk she has taken, out there alone, against public opinion both before and after the bombing: an instant Survation poll finds 40% against, 36% in favour. Even more striking, 54% say she was wrong not to consult parliament, with only 30% backing her on that.