When rats are cornered – they get even wilder and more dangerous to the rest of us.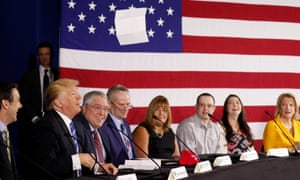 The president threw out his script at West Virginia event, speaking of voter 'conspiracy theory' and referencing his infamous 2015 remarks
Donald Trump veered wildly off-script at an event intended to tout the Republican tax bill on Thursday, making false claims about voter fraud and darkly warning of the menace of predominantly Hispanic gangs.
Trump, who spent much of the 2016 campaign alleging massive voter fraud, returned to the topic at the event in White Sulphur Springs, West Virginia.