Look for Trump to say/do some more outrageous things today and tomorrow morning to distract people's attention from the fact of how shallow and venal he is. His new move against transgender people in the military is part of the distraction blitz – cares nought about who he might hurt – just his pride?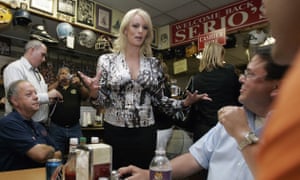 The adult star who flirted with a Senate run goes public on Sunday night in an interview that should prove TV gold
Stormy Daniels got her start in politics the same way most people get a used dresser – from a post on Craigslist.
"Seeking a female candidate to challenge David Vitter in the Republican primary for the United States Senate in 2010. We are looking for a candidate with a history in some aspect of the adult entertainment industry," read the ad placed in 2008.