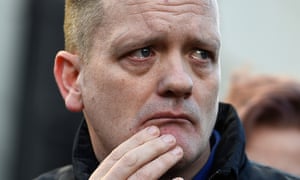 In January, Northern Irish paramilitary Gary Haggarty pleaded guilty to hundreds of violent crimes, including many killings – while working for the British state. By Ian Cobain
One day earlier this year, two prison officers led a portly, middle-aged man into court and instructed him to sit in the dock. He was wearing an ill-fitting grey suit and a grey tie; his hair was grey, and so too were his handcuffs. The only flash of colour came from his florid and slightly sagging face. In the public gallery, 10 feet behind the dock, a handful of people sat and stared at the back of the man's red neck. Outside, 30 armed police officers were standing guard.
In the dock, Gary Haggarty sat and listened for almost an hour and a half as the judge explained the sentence he was about to receive, for offences to which he had already pleaded guilty. It took so long because there were so many crimes to be considered: 201 of them, in fact.