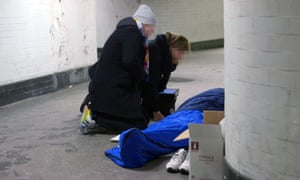 St Mungo's cooperated with Home Office patrols looking for migrant rough sleepers deemed to be in UK illegally
A leading homelessness charity has worked with Home Office patrols as they go out on the streets in search of rough sleepers deemed to be in the UK illegally to arrest and deport, the Guardian has learned.
St Mungo's is one of the largest providers of homelessness outreach services in the UK, with 17 outreach teams across the south and south-west. Its website says it is "here for every step of the journey away from homelessness" and its outreach teams work to "gradually build up trusting relationships" with people who are sleeping rough.