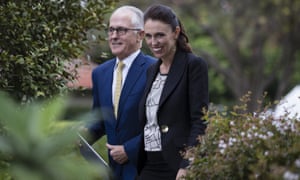 Australian values are neither clear nor consistent. If we want to make a difference in the world, we should follow New Zealand's lead
Of all the Generation X world leaders elected in the last few years – think Justin Trudeau in Canada, Emmanuel Macron in France, and even the 31-year-old Sebastian Kurz in Austria – it is New Zealand's Jacinda Ardern who has the firmest sense of what kind of country she wants to lead on the world stage.
Just four months since taking office after a decade of conservative rule, and while trying to carefully balance the views of three parties in government, New Zealand is already showing signs of regaining its trademark standing as a small but confident, principled and creative presence internationally. And Australia should take notice.