Schumer sell out of Dreamers!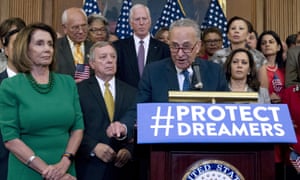 Plan to avert shutdown includes over $300bn rise in spending
Pelosi says package must consider immigration legislation
Senate leaders on Wednesday announced a far-reaching agreement that would set federal spending levels for the next two years, a major victory for both parties after years of lamenting Congress's reliance on short-term solutions to avert financial crises.
The bipartisan plan would raise defense and non-defense spending by $300bn and provide billions of additional dollars in disaster relief funding for areas ravaged by wildfires and hurricanes last year. It would also increase the debt ceiling and allow the government to take on new debt for the next year.