Huh? The boss is calling his employees laughable – he is the laughable one!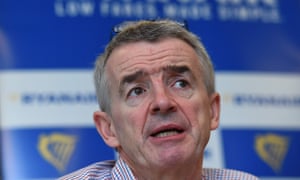 Michael O'Leary warns that strikes are likely over Easter as talks with unions break down
Ryanair's chief executive, Michael O'Leary, has warned that the airline will not bow to "laughable" demands from pilots and would rather see strikes or disruptions than undermine its productivity.
O'Leary said Ryanair was not as optimistic as some of its rivals that it would be able to push through fare rises this summer. Last year, the average fare was €41 (£36), down 13% from the year before. This year, fares will be cut by about 3%, Ryanair said.