Trumpmania racism unchained!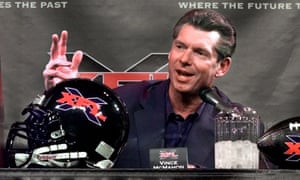 WWE head announces revival of controversial league for 2020
McMahon promises faster games and no kneeling players
First iteration of XFL ceased operations after one season
Professional wrestling magnate Vince McMahon is resurrecting the XFL, his ill-fated professional football league that ceased operations after only one season in 2001.
McMahon, the chairman and chief executive of World Wrestling Entertainment, announced on Thursday that he is bringing back the much-maligned league. It was first conceived as an out-of-season competitor to the NFL nearly two decades ago.