Who's on first? When will #TraitorTrump disown his VP for trying to look better than him?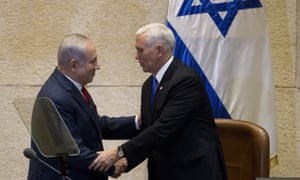 Controversial move to be made by end of 2019, vice-president tells Israeli parliament
The US will open its embassy in Jerusalem by the end of 2019, ahead of schedule, the vice-president, Mike Pence, has said. Arab-Israeli politicians were ejected from the Knesset at the start of Pence's speech for heckling.
"In the weeks ahead, our administration will advance its plan to open the US embassy in Jerusalem – and that United States embassy will open before the end of next year," he said in a speech to roaring applause in the Israeli Knesset.